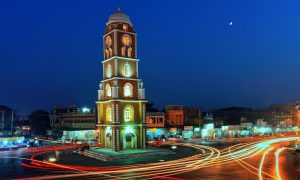 Sialkot is one of the important industrial cities of Pakistan. It has a very ancient history. Sialkot was founded by Raja Sul and later it was reconstructed by Raja Salivahian, he also built a fort in the city, thus the city was given the name 'Sialkot" which means the "Fort of Sia". After independence Muslim population of Sialkot supported the Muslim league and Muhammad Ali Jinnah and many Muslims settled here after migrating from India. The city has been affected by the wars of 1965 and 1971 because of its location; it is located near the border of India. Sialkot is known for manufacturing and export of many items such as surgical instruments, musical instruments, sports goods, leather goods, textile goods, etc. Sialkot is the second-largest source of foreign exchange earnings for Pakistan because of its exports and remittances from overseas manpower. 
Located:
Sialkot is located in Punjab province near Chenab River. The north part of Sialkot is very fertile whereas south art is less fertile. These both arts are watered by the Chenab River. The main crops of Sialkot are wheat, barley, rice, corn, millet, and sugarcane.
Cultural History:
Sialkot is a city rich in culture. People of Sialkot belong to different backgrounds. People of different castes live in Sialkot. They belong to different castes like Jutt, Aryan, Kashmir, Mughal, Gujjar, and others. The culture of Sialkot represents Punjabi culture and its impact can be seen in different areas of life in Sialkot. 
Second Highest Exporter City:
Sialkot is known for surgical instruments, all sorts of sports goods, leather and its products, gloves, and accessories, musical instruments and hosiery, etc. The city had remained famous for small cottage industries. About a century ago, it has a name for paper manufacturing.
During the Mughal period, the papers of Sialkot mills were known for their excellence throughout northern India and were commonly used. In the Sikhs era, the business declined rapidly and the yearly proceeds reduced to 2,500 pounds sterling from 80,000 pounds sterling. The decline was due to the shifting of manufacturing of papers in jails. With the passage of time, the industries of Sialkot have undergone a great change and sports goods, surgical instruments, gloves, musical instruments, household utensils, hosiery and martial arts, pottery, and rubber goods have replaced them.
It has opened new vistas of progress and prosperity. The city is globally known for the export of quality goods worth over 600 million dollars annually. It places Sialkot second only after Karachi in exports from Pakistan. The per capita income of Sialkot is 1,000 dollars – the highest in Pakistan, as compared to 450 dollars in other parts of the country.
Currently, more than 5,000 firms are registered with the Sialkot Chamber of Commerce and Industry (SCCI). Sports goods industry has received worldwide recognition due to good designing, manufacturing, and selection of material. Quality and durability remain the cornerstone of the manufacturers' consideration.
Pakistan's leather industry has attained a remarkable level of development and recognition in recent years. This sector has developed enormously in Sialkot during the last two decades. Initially, there were five to six tanning units using the most conventional skills and techniques. It ranks amongst the few leading earners of foreign exchange. More than those 30 tanning units produce numerous varieties and grades of goatskins. Pakistan has emerged as a leading exporter of processed and semi-processed leather by virtue of which has gained a strong foothold in the international market. South Korea, Hong Kong, Italy, Turkey, Indonesia, Dubai, and Bangladesh are the key buyers of these products.
Industries:
Three industries dominate Sialkot. These industries provide employment opportunities for the people of Sialkot.
Surgical goods
Sialkot produces different types of surgical instruments to export.
Sports goods
Sialkot's hand stitch footballs are famous worldwide for their excellent quality.
Leather goods
Sialkot's produce excellent quality leather jackets, handbags, etc.
Sialkot International Airport
Sialkot International Airport (IATA: SKT, ICAO: OPST) is situated 14 km (8.7 mi) west of Sialkot in the Sialkot District of Pakistan. It has the distinction of being the first privately owned public airport in Pakistan. It was built by the business community of Sialkot by their own efforts. It will help Sialkot to reduce the transport cost and the companies will have easy access to business traveling.
Pakistan's third private airline, AirSial, is finally all set to launch operations in the country starting next month. It received its first Airbus A320 aircraft at the Jinnah International Airport in Karachi via a delivery flight from Arizona, USA.
The aircraft took off from storage facilities at Phoenix Goodyear Airport and began the journey to Karachi, Pakistan. With the A320's range limitations, the aircraft's ferry flight has had to make stops at airports in New Hampshire, Northern Ireland, and Egypt.
The A320 is part of a lease agreement for three aircraft that AirSial will be receiving from Air Cap, the world's largest independent aircraft leasing company that is based in Dublin, Ireland.
Data from Airfleets.net shows that the aircraft is a 16-year-old Airbus A320-200, which was previously registered as ZK-OJH. It has previously flown with other airlines, including Air New Zealand and Freedom Air.
It was a very big step taken by the head of Pakistan where all the authorities were involved to start this project. International airlines like Emirates, Oman Airline, Etihad, and Fly Dubai, Qatar Airways.